Book Review: And They Called It Camelot
AND THEY CALLED IT CAMELOT, a book about Jacqueline Bouvier Kennedy Onassis, by Stephanie Marie Thornton is an epic idea that re-envisions history in a way that only a novel can.
Even though I grew up as this history unfolded, reliving it through this novel brought tears to my eyes all over again. What this family endured is beyond comprehension. Reading it all from Jackie's point of view is breathtaking and heartbreaking. I kept hoping she'd realize some enduring happiness.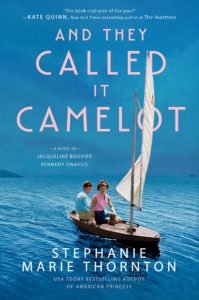 I was enthralled from the beginning. The ambiance of the 1950s political arena is vivid without being overdone. Envisioning the Kennedys' first date is just like I had imagined it. What an ingenious way to experience their story – in novel form. It's smart and sweet and sassy and romantic with disappointments layered in.
I found this book deeply moving at times. When Jacqueline steps to a podium the first time to speak in Louisiana, it moved me to tears. She was instinctual and kind. I think that's because we experience all her disappointments from her point-of-view up until this moment. It made me want to hug her. She was brave and fierce for her time.
Writing a novel in a real person's point-of-view is a brave endeavor. I knew the whole time I was reading that this book was fiction based on fact. But I couldn't stop wondering about what really happened and what didn't. The author does a nice job at the end explaining what she changed to work for her book.
Due to my grandmother's obsession with JFK, I've always followed this family's history, but there is a lot I didn't know or remember. President Kennedy was assassinated less than a month before my fifth birthday. But my age didn't really matter – I was glued to the TV just like everyone else. I remember the children the most. And, like many other families of that era, we went to Washington DC to visit the eternal flame.
AND THEY CALLED IT CAMELOT represents resiliency incredibly well. Jackie was an icon, including her fashion sense. This isn't a fairy tale, but in many ways, it represents a romantic time in history. There are sweet moments, but truth is also well represented. I'm not sure how Jackie endured everything in her lifetime. It's excellent storytelling balanced with positives during dark times for this family.
I highly recommend this novel to those who lived this history by watching it play out on their black and white TV. For those who don't know this era, it may give you a glimpse of strength and resiliency unlike anything you've experienced. AND THEY CALLED IT CAMELOT alludes to "you've come a long way baby" to women across the world. May we all continue to be Jackie-strong in whatever we face.
Review by Dorine, courtesy of TheZestQuest.com. A digital copy was provided by the publisher for an honest review. Thanks in advance for following links and sharing this review on social media.
And They Called It Camelot: A Novel of Jacqueline Bouvier Kennedy Onassis by Stephanie Marie Thornton
Category: Biographical Historical Fiction
Publisher: Berkley (March 10, 2020)
ISBN: 978-0451490926
Rated 5 out of 5, recommended!

Print this Post