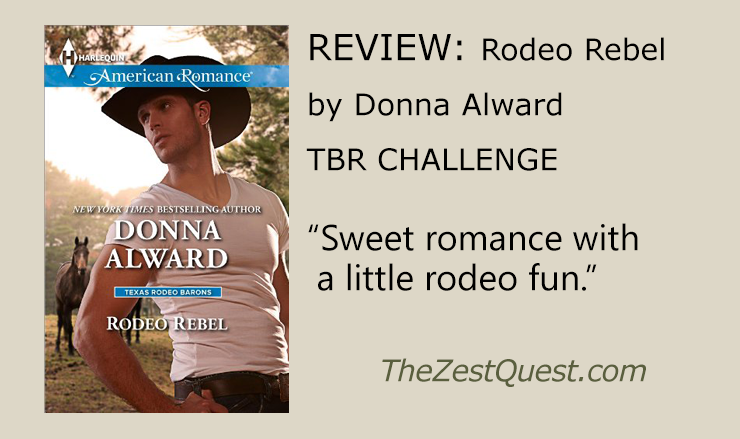 REVIEW: Rodeo Rebel by Donna Alward
RODEO REBEL by Donna Alward is a short, sweet, and enjoyable prelude to her Texas Rodeo Barons series. It convinced me to look for more by her as an author, especially anything Contemporary Western, a sub-genre of romance I crave second to Historical Westerns.
Why is this book in Dorine's TBR? I collect freebies and I believe this is one of the digital books I downloaded for free from Amazon. I haven't tried Donna Alward's books before, but I heard about them through reading friends, so she had been on my list to try. Plus, I've missed reading the American Romance line from Harlequin, so that appealed to me.
First, I must say that I have missed being a part of the TBR Challenge! I was determined to find something to fit this month's theme of "family ties" because I needed to get back on a schedule. But, even that didn't matter as much as I wanted something short and entertaining that I could gobble up in a couple hours. This book fit!
That also means that my review will be short and sweet because I have so many more I need to write. Anyone else struggling with reading and writing reviews during this "thing that shall not be named"? I have experienced reading and writing ruts before, but this current state of world affairs pushed my creative side into a hole. I'm happy to say that this book and several others have cured me of my reading frustrations.
If I've learned anything, I've realized that my reviews have been too long for me to sustain during this time. So, short and to the point is hopefully where I'll go for a while to catch up. Fair warning!
What did I like about this book? It was super short – only 69 pages per Goodreads. It had likable lead characters I could easily care about. Even though this could be considered a great misunderstanding theme, the author handled it well, and convinced me it was worth finding out how it all worked out.
I always enjoy a story about a couple who reconnect later in life and give their relationship a second try. This one is easy to believe because it's perfectly understandable how much they've grown as people in their careers and emotions. Most of all, it took me away into a stress-free world for two hours of comfort reading.
As far as the "family ties" category for the challenge, this one is a stretch. I think it's best to say that family kept them apart, then helped bring them back together. We don't get to know the family that much, except through each character's thoughts, but it's evident that family is a big part of who they are.
On a personal note – I hope you find this review helpful, and that you and your family are doing well during this time. I miss chatting with all of you.
Easy to read in one sitting, RODEO REBEL by Donna Alward is the perfect book for some sweet romance, a little rodeo fun, and a happy-for-now resolution. The best part? The female lead is the rodeo star!
Review by Dorine, courtesy of TheZestQuest.com. A digital copy was provided by Amazon for free in a previous promotion. Thanks in advance for following links and sharing this review on social media. #RomBkBlog
Rodeo Rebel (Texas Rodeo Barons) by Donna Alward
Print Length: 69 pages
Publisher: Harlequin American Romance (June 2, 2014)
Publication Date: June 2, 2014
ASIN: B00J8X2SKA
Rated 4 out of 5 Stars

Print this Post