REVIEW: Hiking Ohio by Mary Reed
When I started my hiking challenge this fall, HIKING OHIO was one of three books that I bought. I haven't had a chance to hike the trails described in this book yet, but when I do I'll come back and update my review.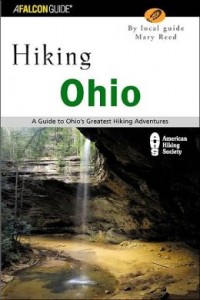 Hiking Ohio by Mary Reed
Published August 1st 2003 by FalconGuides
ISBN: 978-0762724765, Rated 4 out of 5 Stars
Book pulled from my Print TBR Mountain Range, purchased by me.
What I like best about the book, HIKING OHIO, is that it gives a good bit of information about each trail and because most of them are longer trails, having that detail is important.  It includes what you'd normally expect in a hiking book such as where to start each hike, the distance, hiking time, difficulty, directions to the trailhead as well as specific directions along the trail including a simple map of each.
The information included in addition to those expected details is what makes HIKING OHIO stand apart.  It's divided into five sections of the state with historical information about each section.  I especially enjoyed finding Native American history and which tribes inhabited an area when settlers arrived.  Understanding those regions and what formed their history makes hiking each area more symbolic for me.
Also, there are specifics about each trail such as the best season to hike it, whether dogs are allowed or not, what type of surface the trail is, who owns the land and who to contact.  For those of us who face physical challenges, trail surface is extremely important.  I especially like that it includes where to get water, the nearest town, and a list of attractions, accommodations and restaurants. There are a substantial amount of black and white photos that add to the text.
Another good section includes backpacking trails, long trail information and general hiking information, which includes trail etiquette, preparedness, first aid and things to know so that you're taking what you need and not what you don't need for day hikes and overnight trips.  This was very helpful in planning some of my short hikes prior to trying the longer hikes in this book.  One of my favorite sections is the "Hiking Index" which divides the hikes up into categories such as which trails are best for birding, wheelchair accessible, or where to see specific attractions in nature such as streams, rock formations, trees, etc…  It even has a category for best hikes for solitude or best kid-friendly.  If you're a mood hiker like me, then being able to choose by categories is a bonus.
Overall, HIKING OHIO is a very good book that will hopefully lead me to some great hiking experiences in 2013.  Even if you're not a hiker, you'll learn a lot about Ohio and what makes it so unique.  After visiting Mary Reed's website, I found that she's working on a second edition and has another book coming out called HIKING WEST VIRGINIA, which I'll have to get next.  Great reading when you're snowed in and dreaming of fair weather days!
~~~
What's on your mountain?

Print this Post