REVIEW: Thought I Knew You by Kate Moretti
THOUGHT I KNEW YOU by Kate Moretti is exactly how I like my contemporary suspense. It's edgy, but without all the expected gore and violence. There's romance twisted with human imperfections, and family dynamics that are so messed up that it resembles what could easily be real life. You don't know how any of them will come through it all unscathed, so you read as fast as possible to find out.
Why was this book in Dorine's TBR? The cover drew me to it, but I had never heard of the author. So, I did what I always do and read some reviews on GoodReads. I was immediately intrigued and grabbed it during a freebie offer on Amazon. I have a love/hate relationship with suspense, mysteries and thrillers. Had I realized this wasn't just contemporary women's fiction, I might not have chosen to read it for this month's challenge, which was contemporary romance. I'm so glad the cover tugged at me again to pull this out of the hundreds of books in my piles.
I'm in love with suspense again!
What bugs me most about some romantic suspense books, did not happen in this novel. They did not run from the bad guys, kill people, or see people get mutilated, and then have sex because they can't keep their hands off one another. There wasn't gore and violence and yet, this was edgy and mysterious, inciting my anticipation. I didn't always love the characters because of their choices, but I needed to know what happened to them.
What's it about?
Claire Barnes' dog disappears the same day her husband doesn't return from a business trip. It's unusual, since it's also date night with his wife, and he surely misses his children. Not that their date nights have been anything spectacular lately, but Claire feels their marriage is pretty solid. After calling the police, she enlists help from her parents and her best friends, Drew and Sarah.
Even though Claire goes through the motions of filing a missing person report, she feels a deep need to look for her husband as well. She discovers some things the police haven't, which lead them on a new trail. As Claire begins to track down her husband's activities, she starts to realize she may not know him at all. When she follows the trail that he left behind, she begins to believe he's dead. Why else would he leave the family he loves?
The more Claire digs, the more she wonders. Were they really happy?
My Opinion…
Completely absorbing, this book is very difficult to stop reading for life's necessary moments. All I wanted to do was get back to it and find out what happens next. There are meticulously laid clues and more questions that lead to speculation. The characters are flawed and the mystery is heartbreaking. I kept hoping for the best, especially because of the two children who made this situation messier each step of the way.  How do you explain that daddy is missing and he might be dead?
When the lull happens three quarters of the way through the book, I began to wonder if my hype for this story was misgiven. Then the next hint explodes and the ride beings again.
This novel is NOT easy. The characters are a mess, imperfect, and sometimes not very hopeful. But, there wasn't a moment I didn't love this book. Oh sure, I'd think I knew what was going to happen next and wouldn't necessarily be right, but there were enough twists and turns to keep me coming back for more speculation. I couldn't possibly imagine all this myself, so I was thoroughly entertained, wondering along with the characters.
The only thing I found that wasn't perfect was that lull three quarters of the way through the book. I almost stopped there and it bugged me. That's a teeny thing in comparison to how I felt about this book overall. But, I can't say it was a perfect 5 out of 5 because I almost stopped reading. Even with that, I still highly recommend this book.
I'm enamored by Kate Moretti's talent. THOUGHT I KNEW YOU is the type of suspense I've wanted forever, mixed with a good dose of contemporary women's fiction. Yes, there is romance, but it's not conventional or easy. These characters work hard for their happy-ever-after. You might not agree with their choices, but if you're like me, you'll cheer for them anyways.
I'm very excited to read more of her books, and fully expect Moretti to become my new reading addiction. I have to get the sequel, WHILE YOU WERE GONE (don't peek if you haven't read THOUGHT I KNEW YOU – possible spoilers). THE BLACKBIRD SEASON, coming in September 2017, is at the top of my gimme list. I mean, really – blackbirds? Who doesn't immediately think of Alfred Hitchcock?
Review by Dorine, courtesy of The Zest Quest. Book obtained for free through a previous Amazon promotion.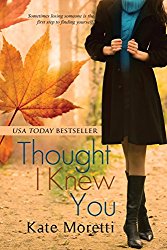 Thought I Knew You by Kate Moretti
Category: Contemporary Women's Fiction/Suspense
Publisher: Red Adept Publishing (September 14, 2012)
Rated 4.5 out of 5, Recommended Read
More by Kate Moretti…

Print this Post