REVIEW: Still the One by Jill Shalvis
Author Jill Shalvis is masterful at taking flawed, damaged characters and making them loveable. Darcy is hard to love, or she tries to be, but AJ sees right through her gruff exterior and loves her anyway. This is their addictive story with a great catch-up on other characters in the series but it is easily read as a standalone.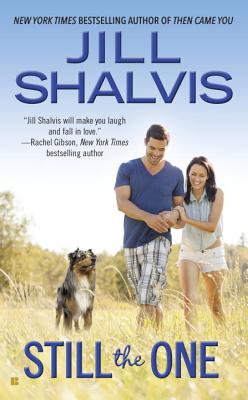 Still the One by Jill Shalvis
Book 6 in the Animal Magnetism Series
Category: Contemporary Romance
Publisher: Berkley (April 7, 2015)
ISBN: 978-0425270189
Rated 4.5 out of 5
Read print ARC, also available in eBook and Audio
Darcy Stone is recovering physically from an almost fatal car accident, but her mental status is yet to be determined. She believes she's not ready to love anyone, even if someone is brave enough to love her. Darcy saves her love for the service dogs she rescues and then gives them to whoever needs them most. She scrapes together the funds to buy these throw-away animals from the two jobs she works.
AJ Colten is the physical therapist who has pushed Darcy beyond reason in order to make her well and he's also now her boss at one of her jobs. It infuriates Darcy that she's so attracted to a man who hardly knows she's alive. Oh, he helps her with her physical recovery but her attitude keeps him far away emotionally, or so she thinks. AJ stays away from Darcy because it's the professional thing to do, not because he's not attracted to her. Quite the contrary, he can hardly keep his feelings to himself, but he'll never tell Darcy that because her brother Wyatt would kick him into tomorrow if AJ hurt his sister.
When AJ's patient, who was supposed to go with him to meet potential backers for his facility, cancels, he's pushed into asking Darcy to help him. Darcy feels obligated and intrigued when AJ offers to pay her money that she can use to buy more dogs, but when she finds out that AJ also did a lot of her therapy pro-bono, she's infuriated that she was never told about his gift. To get even with him, Darcy schmoozes the potential investors, a husband and wife team, into thinking that she and AJ are a couple.
Forced to pretend their love for one another, will they be able to convince themselves there is nothing between them when the sparks ignite?
Since the last book I read in this series was RESCUE MY HEART (book 3), I really didn't have any preconceived ideas about most of the characters when starting STILL THE ONE (book 6). I was also able to begin this book without the familiarity pretty easily. I did wonder about Wyatt and Emily quite a bit, but that's because I want to know their story, which was in the previous book, THEN CAME YOU (book 5).
I chose this book for review because I have an affinity for animal stories and I enjoyed RESCUE MY HEART so much that I wanted more. It met my expectations and amped up my craving to read more books in the series.
Darcy is one of the most interesting female characters I've read about in a long time. She's what made the book for me, but I wasn't impressed with her at first. Darcy has been through so much in her lifetime that she puts up barriers and pretends she doesn't care about anyone except her brother and sister. She's a hardass, plain and simple. Darcy has developed relationships so she's not a recluse and one of those relationships, which is thoroughly covered in this book, is with tattoo artist Xander, her best friend, but her hardened exterior seems off-putting at first.
By about chapter eight, I became acquainted with the crazy off-the-wall Darcy and that's when things really got interesting. Darcy is the kind of friend who can either sink or swim a relationship just with her antics. A lot of what she does is to protect her heart but she seems to damage it just as much by trying to protect it. She's one wild girl when she gets something in her mind and AJ is never quite sure what she'll do next. This proves to be very funny more than once. AJ loves Darcy and always has, but he doesn't intend to follow through on his feelings for her. She's off-the-wall wacky a lot, which he finds irresistible as much as she drives him crazy.
This book is worth reading just for the characterization of Darcy, even though so many of the other characters play a very important role in this novel. Xander and his brother are very intriguing so I hope we hear more about them in the future. Fans of the ANIMAL MAGNETISM series will enjoy cameo appearances of other characters from previous books with a lot of time devoted to Emily and Wyatt, especially Wyatt. Since the next book is about Zoe, Darcy's sister, she gets a lot of page time as well, setting up her upcoming story. We get to know these siblings' relationship with each other rather well in this book so I'm anxious to see it further explored in Zoe's book.
I've come to expect humor when reading Jill Shalvis' books and this novel is no exception. There are some laugh-out-loud funny moments in STILL THE ONE, the scene that made me laugh the hardest is the one with Darcy and a parrot. And let's not forget the cat who gets in on the humor. There's nothing super original about the scene itself but it's the magic of the characterization and Darcy's inner dialogue that makes the scene so funny. That's magic when an author can take something predictable and make it unpredictably funny. There is also heart-breaking sadness that is so worth reading. I sobbed like crazy toward the end of the book when emotions are running high and Darcy is faced with something she never expects. A truly beautiful chapter that will touch your heart and cement Darcy, as a character, forever into your memory.
For those who love animals, there are several scenarios with the service dogs Darcy rescues and then places with new owners. Those are great, emotional, loving moments that will tug at your heart.
AJ is the perfect hero for Darcy even though he has some issues to overcome as well. Their journey is sexy, funny and often heartrending, but that's what makes their relationship special.
I had a hard time deciding how to rate this book because I ended up loving it so much. I concluded with 4.5 because I felt Darcy's characterization was a bit off in the beginning, even though I can't put my finger on exactly why. She surprised me when she and AJ took off on their road trip, this made the book for me, so much so that by the last page I felt that overall I really loved this book. I think you need to read it yourself to see if we're in sync with our thoughts.
If you love quirky, damaged characters, laugh-out-loud moments, heart wrenching emotion plus family dynamics and friendships improved by hardship, then STILL THE ONE should be bought to read right away. While you're at it, you might want to pick up a few more books in the ANIMAL MAGNETISM series because you won't be able to read just one. Funny, crazy characters falling in love, what are you waiting for? Jill Shalvis writes keepers that you'll want to re-read.
Reviewed by Dorine, courtesy of Romance Junkies and TBR Mountain Range. Print ARC provided by publisher.
Support this site by following the above links, buying books by clicking on the graphics, or commenting below…
More books by Jill Shalvis – click the covers to find them at Amazon or visit IndieBound.org.



Print this Post