REVIEW: Lone Rider by B.J. Daniels
A storm is brewing in the mountains. Will Jace find Bo in time before she's lost forever? Will search and rescue help or hinder his success? Can anyone keep presidential hopeful Buck from racing up the mountain himself to find his missing daughter? This and so much more will keep you turning the pages.
The Hamilton family suspense continues when Bo, the daughter of presidential candidate Senator Buck Hamilton, rides by horseback into the Crazy Mountains for a few days to clear her head. The foundation she runs is missing a large amount of money, and even though she was the one to call in an auditor to find the misplaced funds, Bo assumes everyone will hold her responsible. She comes across an unattended campfire in the wilderness on her way home and is concerned about the fire spreading. Stopping to investigate, Bo is taken captive by an escaped convict and forced to go further up into the mountains with him.
Jace Calder has stayed away from Bo since she broke his heart five years ago. But his sister, Emily, is concerned about her boss and she knows Jace is the best tracker for the job. Jace wants to find Bo so no one blames his sister for the missing money. The further he gets into the mountains, the more on edge Jace becomes because he senses there's something very wrong about this whole situation.
The suspense builds throughout this novel while the reader is given snippets of the characters' lives as they happen. LONE RIDER is more suspense than romance, even though there are several love stories developing within the novel. I got so wrapped up in the suspense and various characters that by the time the lead couple was reaching their happy-ever-after, I wasn't ready for it. Theirs is a good love story but I wanted to see more of them together before their commitment.
I'm not really sure how I feel about this book. There were a few sections that felt a bit choppy but that's actually a technique I notice consistently within suspense stories in general that seems off to me. I really enjoyed this book until the epilogue. I guess I expected a resolution to the mysteries that were building throughout the book by the end of the novel. When they weren't resolved, and I realized I was reading the last few pages, I was temporarily mad at the book because I was instantly frustrated and wanted answers. I thought I missed something and went back to re-read the last few chapters. There was more suspense than romantic moments, as well as foreshadowing for the next novel, so maybe that's why I feel that the romance was downplayed. I don't read that many suspense series so I can't say whether this is normal or not. I just know that it stunned me when I got to the epilogue and realized the book was ending and I wasn't ready.
The fact that I was riveted until the epilogue tells a lot about B.J. Daniels' keen ability to write engrossing suspense. She had me so locked in that I didn't realize the book was almost finished until there were only a few pages left.
This is the style of series that can do one of two things to its fans. It can create such anticipation that the reader misses key points in their rush to finish and then are left feeling that the romance was shortchanged. Or, it can instigate a back-to-back series reading frenzy each time a new book comes out. I was initially on the frustrated end of the spectrum because I forgot key points from the first book by the time I read this one and now I'm realizing that the same thing will happen with the next book. If you're a re-reader, then you'll love this series because it begs to be re-read so that you don't miss anything in the densely layered plot. For me, I'm not sure I can continue and further aggravate my poor memory because I just don't usually take the time to re-read.
That makes me sad because I really enjoyed the first book and had such hope for this series. I love the Montana setting and the mountains everyone refers to as the Crazies. In actuality, the Crazies go well with the craziness that happens to this poor family. I can't help but think that the senator's presidential race may not recover from all the chaos in his family. I want to know how it all ends but my lack of memory where series details are concerned may keep me from continuing. I wish I was a different type of reader but I have to face reality. I read for the joy of it and when a book is still frustrating me several days later, I have to wonder why I'm allowing that to happen. Am I that connected to the characters that I can't let go? Probably. I'll be really curious to see if anyone else is affected in the same way as me and whether we'll jump into book three of THE MONTANA HAMILTON series, LUCKY SHOT, in November 2015 with the same level of anxiety. Or, will that have worn off and we'll be ready to dive-in again with anticipation?
This is most definitely a series that should be read in order or you will be lost due to the amount of suspense that carries from book to book. Read book one, WILD HORSES, first before reading LONE RIDER. If you really want to get the most out of this book and you have read the first book months ago, re-read it or at least part of it to familiarize yourself with the ongoing plot. I went back to the first novel after finishing this one and it would have been better to re-read book one prior to reading book two.
I'm giving LONE RIDER a 4 out of 5 rating because it had me riveted. I didn't enjoy it as much as WILD HORSES that I rated at 4.5, which is how I came up with the rating for this book even though I wasn't completely satisfied. Whatever frustrations I feel about how the story ended is probably my hang-up as a reader and I can't hold the author responsible for my particular preferences. The suspense is great and the characters are well-drawn. I can't believe I'm wishing for November in the middle of summer, but I really need to know what happens next in LUCKY SHOT!
Reviewed by Dorine, courtesy of Romance Junkies and The Zest Quest. ARC provided by the publisher through NetGalley.
Get your copy at Amazon.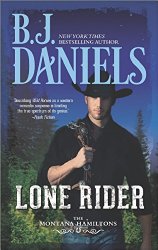 Lone Rider by B.J. Daniels
Series: The Montana Hamiltons series, Book 2
Category: Contemporary Romantic Suspense
Rated 4 out of 5
What's your favorite romantic suspense series?

Print this Post