REVIEW: High-Risk Homecoming by Alison Stone
In HIGH-RISK HOMECOMING by Alison Stone, a community that protects its youth with faith based activities can't save them all, but can they forgive those who have gone astray? Is it wise to forgive and forget?
Ellie Winters returns to her hometown of Williamstown in Western New York after a failed relationship in order to start over. Painful memories of her family's shame when her brother was arrested for dealing drugs continue to affect their future. Her parents' savings went to his lawyer and neither of the siblings went to college because of the loss of the money intended for that purpose. But Ellie is determined to start fresh with a gift shop, shared with her good friend Ashley who put up the finances to get them started.
FBI Special Agent Johnny Rock returns to Williamstown to solve yet another drug trafficking problem, in the guise of helping his grandfather ready his home for sale. It doesn't take long for Ellie and her family to guess why Johnny is in town, since the last time he was here he fooled them all into thinking he was a high school student and best friends with her brother. Years ago when Johnny arrested Ellie's brother, all her hopes and dreams, including the crush she had on Johnny, were ruined.
When Ellie's shop is targeted by the drug dealers for package deliveries and one goes missing, Ellie's life is in peril. Can Johnny keep her safe and win her heart, or will the drug problem in this small town once again tear them apart?
What I enjoy most about the Love Inspired books I've read so far is that they're long enough to provide a good story, but short enough to read within a day. I love this length to squeeze in-between my norm of reading books closer to 400 pages or more.
This is the second book I've purchased and read by author Alison Stone and although I enjoyed PLAIN THREATS slightly more, they're both easy stories to read quickly. Alison Stone's writing style is tightly woven so that you get a feel for the locale of the story without the book being overly descriptive or too chatty. The dialogue moves the story forward with the suspense, often sufficing with a nod or a look when no words are needed.
If you're looking for a sweet small town relationship story without offensive language or sexual escapades, then this Love Inspired Suspense is a good choice. Alison Stone spins an intriguing mystery with enough suspicious secondary characters to keep the reader guessing without the plot becoming overly gory or scary. The relationship between Ellie and Johnny is a gradual progression so it's realistic, given their history and the current danger consistently plaguing Ellie and her shop. The characters have a faith that guides them with some biblical references, but it's so subtle that it comes across as very natural and not overdone. HIGH-RISK HOMECOMING brings to life the values of small town America.
Reviewed by Dorine, courtesy of The Zest Quest. Print book purchased.
Get your copy at Amazon.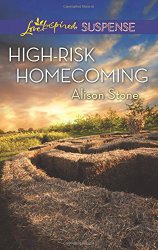 High-Risk Homecoming by Alison Stone
Category: Inspirational Romantic Suspense
Harlequin Love Inspired (July 2015)
Rated 3.5 out of 5
Do you prefer to mix up your books by page count?

Print this Post