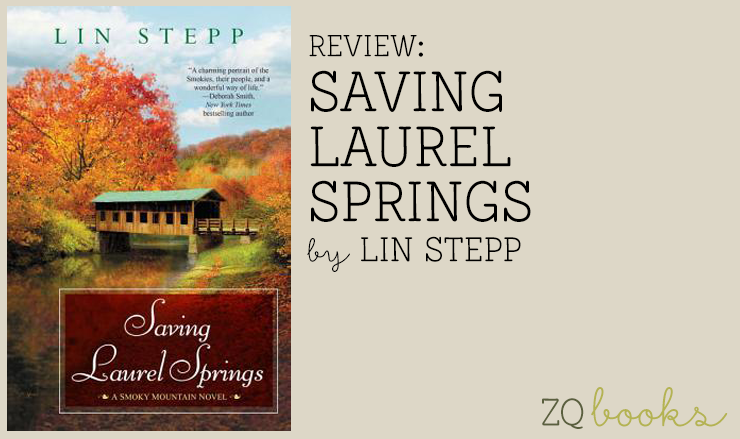 REVIEW: Saving Laurel Springs by Lin Stepp
A camp assembly in the Great Smoky Mountains is the setting for the eighth novel of this sweet contemporary series with a heartfelt faith message woven within the romance.
The highlighted lesson behind this Christian story is forgiveness and it's honed beautifully by the end of the story. How many of us harbor resentment for the past, never releasing ourselves into the power of forgiveness? SAVING LAUREL SPRINGS illustrates one woman's rather bumpy journey through bitterness, ending with a rich new beginning that will touch your heart.
Rhea Dean is an interesting character. She had youthful dreams of moving to California with her best friend, but sad circumstances kept her in the town where she grew up. Now she spreads herself thin over the many tasks at the declining Laurel Springs Camp Assembly Grounds, a vacation cabin and camping resort on a lake in the Smoky Mountains. It's her persistent faith in the resort's potential that has held it together when times were tough over the years, her enthusiasm never tiring. But she isn't happy, even if Rhea thinks that she has moved on. That's due to her resentment toward her childhood sweetheart who left to go to college, staying away while advancing his career as a computer game developer, leaving their shared dreams behind in Laurel Springs.
But did Carter Layman ever really forget? We find out when he moves back to Laurel Springs as a widower, bringing his six-year-old son Taylor with him. In the first few chapters, Rhea and Carter unexpectantly reunite on the bridge where they shared their first kiss as teenagers. Rhea is spitting mad at Carter, even after all these years, but he also still has the ability to rile her passion.
Even though his wife has died, Rhea can't forgive Carter for not only loving someone else, but also forgetting her and their mutual goals. Rhea can be very hateful and unlikable at times. Her resentment is often used as a shield for her heart that still cares, even if she won't admit it. Will her bitterness and inability to forgive cost her the happiness she deserves?
Carter wants to renew his friendship with Rhea, the girl he never forgot. Carter is home for good and wants to work on all the goals he once had for Laurel Springs, using the money he's made from his very successful business while making a home for his son. But will Rhea appreciate his efforts, or resent them as an intrusion into the life she has built without him?
I enjoy Lin Stepp's books for their simplicity, taking us down-home into the lives of people who understand poverty, hard work and a belief that life improves with faith. Although there is an underlying mystery in this story, I felt that it was hinted at enough to figure it out before the characters resolve it. The suspense doesn't ratchet anxiety but gives the characters a way to unravel their town's history. The results were fun and it gave this couple more time alone to reacquaint themselves with who they are today.
Overall, I enjoyed this book, especially the ending which was surprising and made me smile at the characters' sarcasm. The faith message was especially well done which made the ending more spiritual for me. I did find a few repeated facts that seemed overdone in my advanced reader copy, but those could have been smoothed over in final edits before publication. I also wasn't always convinced of Carter's son Taylor's age because of his advanced dialogue that made him seem wise for his years. Since the repeated facts and the child's actions were related, it was a quibble for me, which probably wouldn't have been if they didn't coincide. Even with that small bump, I was engaged in the story.
SAVING LAUREL SPRINGS easily stands alone if you haven't read any of the previous seven novels in the SMOKY MOUNTAIN series. I enjoyed book seven, MAKIN' MIRACLES, but I don't remember any connecting facts between the two books other than they're both satisfying stories based on nature and faith, so I think you can easily start anywhere in this series.
Lin Stepp's books embrace an innocence brimming with conversational dialogue that remind me of country life in the 60s, placed within a modern day story. The small town pace accentuated by nature is what draws me to Ms. Stepp's novels, full of nostalgia for an era lost but never forgotten.
If you prefer sweet romance stories infused with Christian lessons, along with vivid depictions of a beautiful, natural setting, then grab a copy of SAVING LAUREL SPRINGS on September 29, 2015 and wander up the mountainside to relive those breathtaking views.
Review by Dorine, courtesy of Romance Junkies and The Zest Quest. Digital ARC provided by the publisher through NetGalley.
Get your copy at Amazon.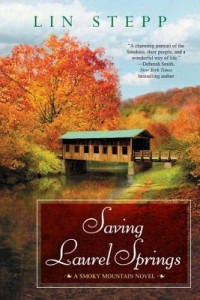 Saving Laurel Springs by Lin Stepp
Series: The Smoky Mountain series, Book 8
Category: Contemporary Christian Romance
Kensington Books (September 29, 2015)
Rated 3.5 out of 5
Do you enjoy fiction with a nature theme?

Print this Post