REVIEW: Wedding Night With the Earl by Amelia Grey
Easily read as a standalone, this unusual story immediately grabbed my attention with a handicapped heroine and an orphaned child. WEDDING NIGHT WITH THE EARL by Amelia Grey is a lovely Regency romance with captivating characters.
Adam becomes the eighth Earl of Greyhawke when his cousin unexpectedly dies of consumption. After spending two years in seclusion after his wife Annie died during childbirth, Adam tries to get out of his inheritance, only wanting to be left alone. When an orphan is brought to his doorstep as his legitimate heir, Adam is forced to be accountable for five-year-old Master Dixon as well. Without an easy way out of these newfound duties, Adam reluctantly travels to London to meet with his solicitors during the Season, bringing Dixon along with him. He's not in want of a wife, but he'll attend some parties as a distraction.
Having existed on bland food while secluded, Adam gladly accepts the Duke of Quillsbury's dinner party invitation. He runs into his two best friends who finally tell him about their wives' pregnancies. They had kept it from him because they were well aware how much Adam suffered right along with his wife for three days, when no one could help her or the baby.
It's at this dinner party that Adam is immediately drawn to Miss Katherine Wright and asks her to dance. Katherine verbally spars with Adam, refusing his offer. Adam can hardly believe this beautiful woman doesn't dance, so he does his best to charm her into accepting. When that doesn't work, he gets a bit rude about her refusal. In the end, he's the one who looks the fool when he realizes Miss Wright is walking with a cane.
This unusual story immediately grabbed my attention with a handicapped heroine and an orphaned child. The hero and his two best friends are charming together, quickly grabbing at my heartstrings with Adam's losses and their kindness in trying to protect him. Due to her own loss and handicap, Katherine is overprotected by her two uncles and her aunt. Adam shows Katherine how to live while piecing together his own life. Can they find forever happiness?
I fell in love with these characters. Katherine's backstory is well illustrated by Dixon's current situation. I could easily visualize this little boy trying hard to be brave. Author Amelia Grey wrote Dixon's character so realistically that he practically jumps off the page. Even though he was sad, Dixon said the cutest things that made me smile. The scenes Adam shared with Dixon were precious. There's also a dog that adds a heartwarming element. Lord Greyhawke is wonderfully mischievous and charismatic with Katherine. Katherine is cheeky and sassy, exactly the type to put Adam in his place in eloquent style. I could feel right away that Adam and Dixon both fell a little in love with Katherine from the first moment they meet her.
I thoroughly enjoyed this novel as my introduction to Amelia Grey's talent. Even though it is the third book in THE HEIRS' CLUB OF SCOUNDRELS TRILOGY, WEDDING NIGHT WITH THE EARL is easily read as a standalone. I am very curious about Adam's charismatic best friends, so I'm sure I'll go back to read their stories in THE DUKE IN MY BED and THE EARL CLAIMS A BRIDE.
Adam's story is very poignant and his loss is palpable. I did get annoyed with his attitude toward marriage. His reasoning seemed skewed and without substance, so I couldn't understand why he didn't dare consider having children. When his reason is revealed, it all made sense to me. Although, I did feel he was a bit selfish with Katherine while not being protective enough of her reputation. In the end, he made up for his behavior so I was satisfied.
One thing I have to mention is that the title of this book doesn't really describe the content or its merits. I'm not usually a fan of romances where the wedding happens early on in the book, or takes up a large part of it, so thankfully this isn't that book. I'm glad I ignored the title, otherwise I may have missed this gem.
WEDDING NIGHT WITH THE EARL has one of my favorite themes, beauty and the beast, within it, although it's very subtle. Adam is known as the "beast" by society because of what he did while grieving, and Katherine seems to calm him. That subtlety was very nicely done.
WEDDING NIGHT WITH THE EARL is a lovely romance full of parties, good deeds, best friends who mean well, and loving relatives who almost get in the way. Amelia Grey writes engaging dialogue filled with sigh worthy emotion. If you love stories with children, then you'll fall in love with Dixon. He's such a proud little man and made the book come alive. An unusual and particular heroine is the best part of this enchanting Regency romance novel. I rooted for her happiness from the beginning and was satisfied by the very sweet epilogue.
Review by Dorine, courtesy of Romance Junkies and The Zest Quest. Digital ARC provided by the publisher through NetGalley.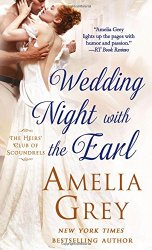 Wedding Night With the Earl by Amelia Grey
Series: The Heirs' Club (Book 3)
Category: Historical Regency Romance
Publisher: St. Martin's Paperbacks (March 1, 2016)
Rated 4 out of 5
Books 1 and 2 in The Heirs' Club of Scoundrels Trilogy
What are your favorite romance themes?

Print this Post