REVIEW: The Healing Season by Catherine Evans
THE HEALING SEASON by Catherine Evans, the final book in this engaging three-part series, includes two unusual characters in a small town rural setting in Australia. Beautifully paced, a friendship blooms as they help each other begin anew and they fall in love.
Alicia Pearce moves back to her home town in Australia after being away four years in college. She has the job of her dreams as an agronomist and business manager for the Dulili Ag Store. Staying busy is one way to keep her mind off her personal struggles. After her fiancé was killed, it was as if everyone, especially her parents, expected Alicia to change her life goals. The last straw was when her parents donated her grandparents' house to the town to attract newcomers by offering properties for one dollar a week rent. This was the house she had planned to share with her fiancé prior to his death. Why didn't anyone tell her that the house of her past dreams was being donated?
Lachlan Muirhead hires on as the yard man at the Dulili Ag Store and moves into one of the farmhouses that the town is renting for a dollar. He's not sure he'll stay, so he only signs up for three months. Lachlan is hoping to buy some property in Dulili if it turns out to be somewhere he wants to settle permanently. Lachlan appreciates his new job but it's strange to work for a female boss. When he realizes he has moved into the home Alicia had shared with her fiancé, Lachlan's feelings become more tangled.
Lachlan and Alicia work together to beautify the town in a painting project, engaging the residents to participate. Lachlan begins to feel at home. Will he find enough to entice him to stay?
I have really enjoyed the A DOLLAR FOR A DREAM series because even though it's a small town series, it's still very rural with farming appeal. THE HEALING SEASON adds to the rural feel with the farm supply store. The farmers come to this new store, versus one in another town, and Alicia's knowledge helps them with their purchases. Alicia's estrangement from her farming parents adds to her inner struggles.
Alicia and Lachlan are both unusual characters and the reason I've rated this romance higher. Alicia's grief is poignant. She's struggling to live but has unavoidably alienated herself from everyone while attempting to heal. As she becomes involved in helping the town, Alicia heals herself. Her career choice is intriguing and I loved that it was agricultural. Lachlan has a secret that is revealed further into the novel that makes him one of the most unusual heroes I've come across. Once Alicia realizes what Lachlan needs, she jumps right in to help him. I found the scenes focused on their combined efforts to resolve Lachlan's problem heartwarming. There are some scenes with a friend's young child that are absolutely precious.
THE HEALING SEASON combines several of my favorite themes including art through photography and friends to lovers. The romance moves very slowly so I loved watching their friendship develop. Alicia and Lachlan are adorable together. Lachlan is brave in the way he handles Alicia's past; confident he's not competing with it.
If you love unusual small town romance in a rural setting, THE HEALING SEASON is a beautiful choice. Although this novel can be read as a standalone, I believe the engaging A DOLLAR FOR A DREAM series from Escape Publishing, the digital-first division of Harlequin Australia, is such a good package that it should be read in order for the full effect. Begin with A HEART STUCK ON HOPE by Jenny Jones, then read HONEY HILL HOUSE by Lisa Ireland, concluding with THE HEALING SEASON by Catherine Evans. All three authors created a town that readers can root for, and I hope they write more stories about the people who move there to begin anew. It's the perfect mix of intriguing characters and loving relationships.
Review by Dorine, courtesy of Romance Junkies and The Zest Quest. Digital copy provided by the publisher through NetGalley.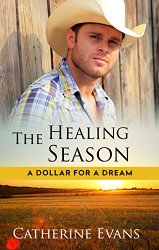 The Healing Season by Catherine Evans
Series: A Dollar For a Dream, Book 3
Category: Contemporary Romance
Publisher: Escape Publishing – Harlequin Enterprises, Australia Pty Ltd (March 1, 2016)
Rated 4.5 out of 5
( #ContRom2016 )
Books 1 and 2 of A Dollar For A Dream series.
Do you enjoy books set in Australia?

Print this Post