Summer Farm Share Week 5 – Double Vegetarian
In Summer Farm Share Week 5, we requested a double vegetarian after vacation since we skipped week 3 and 4. If we schedule it ahead of time, we can elect to take a double share to make up for a missed week. I think it's nice to get a full share once in a while since we always split our share with my parents. My parents got a full share during week 3 (no pictures), then we skipped a week for both of us and did the double share when we got back from Idaho. That's also why this post is so late. I find it hard to get back in the groove after traveling. So, that means each family had a full share this week.
Week 5 of our small Vegetarian summer farm share included (featured photo at the top of this post is full vegetarian share plus a few extras). What's left since Wednesday, June 29, 2016 and what we used up.

Lettuce – Red Leaf – half left, the other half was salad feast
Spinach
Kale
Broccoli – used half of ours in a stir fry, used my parents' share in our grill fest over the weekend.
Cabbage
Cauliflower – used half of ours in a stir fry, used my parents' share in our grill fest over the weekend.
Beets
Blueberries
Zucchini – used one in the grill fest fest over the July 4th weekend, but not sure if it was ours or my parents. HA
Cucumbers
Garlic Scapes – used some of these in the stir fry.
Extras…
Vanilla Yogurt
Cherries – these went fast – all gone.
Puffed Spelt Cereal (our favorite)
Maple Syrup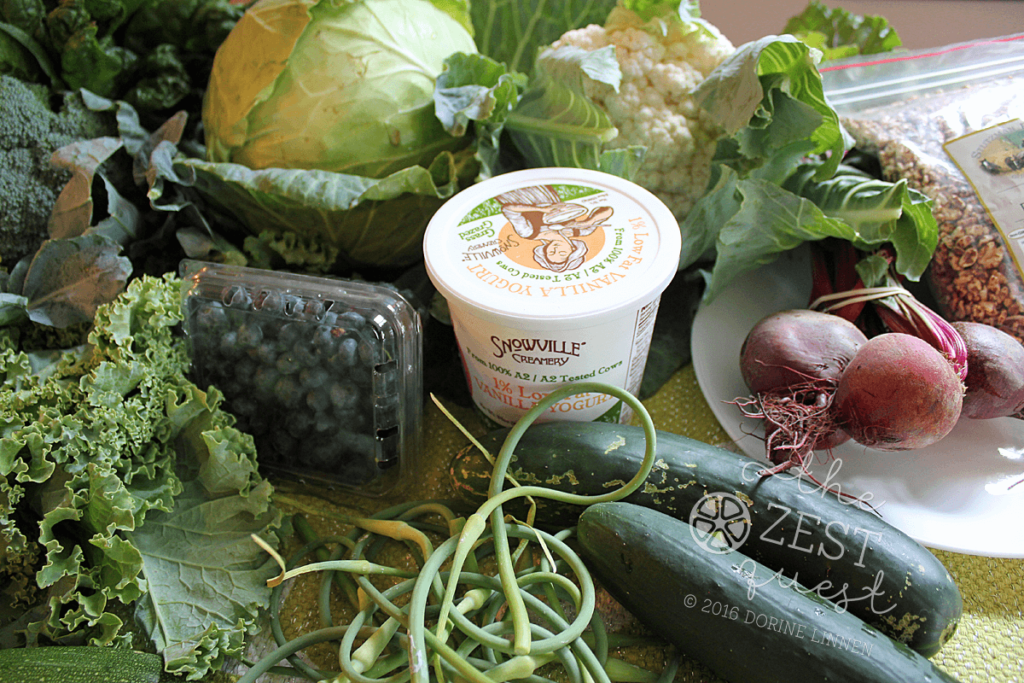 RESULTS…
I ordered some extra items and haven't really dug into them yet. We love vanilla yogurt with fruit for a snack in the evenings – the idea that it might keep us out of the ice cream (laughing hysterically while looking at Mr. Carnivore. 🙂 ). I thought we needed cereal, only to get home and realize we still had almost a full bag. I got Mr. Carnivore some cherries because he hates blueberries and he graciously shared some with me. I couldn't resist the Maple Syrup any longer because we only had a few drips left of our last jar. (Dreaming of french toast or pancakes with that amazing Maple Syrup.)
This was a tough week since we spent quite a few days out of town for Mr. Carnivore's surgery. He's doing well, so thanks so much for everyone's prayers – keep them coming.  The very night we brought home this share, I stir fryed the broccoli, cauliflower and garlic scapes with some onions because it sounded soooo good, and it was. Then we went out for my brother's birthday and brought home leftovers.
Next, we had the grill fest over the 4th of July weekend. I brought all my veggies to use, but my sister donated some and my mom threw in some of hers, so in the end, I think I brought most of mine back home and they're still in the fridge. It's really amazing how far a head of broccoli or cauliflower goes when you're grilling in mass like that – I had to stop or else we'd be eating grilled veggies for a week.
The other few days we were home we ended up eating leftover vegetable stir fry and leftover grilled veggies with the leftovers from the birthday dinner out, a lunch out somewhere in there, plus leftovers from the holiday weekend, then we were off running again.
The day we got back was Week 6 Share day, so I have another half of a share to tell you about this week. Then, maybe I'll catch up with the veggies in our fridge. I think it will be a blanching/freezing week for sure!
I also have to share garden photos – I've been taking pictures when I'm home long enough, so hopefully in-between weeding I can update you on the perennial gardens and our small vegetable garden, since both of them are growing like crazy. I should have tomatoes very soon! Meanwhile, you can check out the photos from last year.
The crazy Wisteria Hysteria has become a tunnel of vined love and is creating a great darkness off our porch into the perennials. That's the first thing on the agenda when I have a helper, to get those vines trimmed and the wall of shrubs thinned out. I'll try to remember to do a before and after because if you're going to own a Wisteria, that's part of the maintenance at least once a year.
What kind of food has your fork been digging into?

Print this Post