REVIEW: The Choices We Make by Karma Brown
THE CHOICES WE MAKE by Karma Brown is a story full of love, but it's not in the typical romance novel format. I think it's better described as women's fiction with family development at a crossroads. There are two couples in love, but this book is more about friendship as well as how life swirls out of control, forcing love and hate to intersect.
Hannah and Ben have been trying to get pregnant for years. Nothing seems to work and the pregnancy tests have been stacking up in a disappointing pile. Kate and David have two beautiful children. This means that being best friends with Hannah and Ben is emotionally difficult when they find out their latest try for a baby will be their last. Kate has also recently experienced a devastating loss. Can their shared sorrow and life-long friendship withstand the obvious solution? Will their friendship bear this trial?
Right before I reached the middle of the book, I laughed at Hannah and Kate's apparent friendship. Up until that point, the story was angst ridden and sometimes sad. Feeling this couple's need to have a child, no matter what it takes to make that happen, was emotionally gripping. The humor at that moment was needed because the turmoil that ensues is a women's worst nightmare. Even though this book is sad at times, I didn't weep. I sensed what would happen in the end so I wasn't surprised. I was more pleased with the conclusion than I had imagined I would be, so the middle portion of the story incensed my anger and inquiring emotion, hoping the characters would get a clue. They did this to my satisfaction, but it wasn't without my faith in them wavering at times. Be prepared for a groundswell of emotion as this book covers more than any of us wish to endure as well as the many layers of love that we hope to retain.
THE CHOICES WE MAKE eloquently portrays family and friendship, where sometimes the lines between them seem to blur.
Review by Dorine, courtesy of Romance Junkies and The Zest Quest. Digital ARC provided by the publisher through NetGalley for an honest review.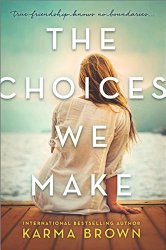 The Choices We Make by Karma Brown
Category: Contemporary Women's Fiction
Publisher: Mira (July 12, 2016)
Rated 4 out of 5
What are your favorite aspects of women's fiction?

Print this Post