REVIEW: Must Love Wieners by Casey Griffin
MUST LOVE WIENERS by Casey Griffin features a quirky, soon-to-be veterinarian heroine whose variety of part-time jobs get her into more doo-doo than a box full of puppies. Her love interest is a wealthy CEO who shakes the heroine's hand so much that even I began to wonder if he'd ever get brave enough to kiss her. Add in some mystery, plus attempted murder, stolen cars, arson, a dog with a leg fetish, a dachshund rescue facility in trouble, plus a loony reporter who is like a dog with a bone, and you've got a romantic comedy similar to a cozy mystery with enough humor to make everyone smile.
Contemporary romantic comedy or comedic mysteries aren't always a hit for me, but I couldn't resist a book about a rescue facility. I don't read a lot of novels like this, but I keep trying because they sound so cute and I love books that make me laugh. Although I didn't laugh hysterically at the wacky things that happened to this poor heroine, I did smile an awful lot from the middle to the end. This book is an easy, fast read with a pair so charming that their relationship makes the story worth reading.
Piper and Aiden are complete opposites so it's hard to imagine them together as a couple, at first. It's easy to recognize that Aiden really needs to lighten up. He takes life and himself too seriously. Piper is just what he needs because she messes up constantly, yet she has a heart of gold. It really helps that they both own rescued dachshunds who are already well-acquainted. The two dogs' puppy love is sure to rub off on their humans.
Each chapter in this book has a cute dog-themed subtitle that made me want to guess what was going to happen next. Not only are there loads of dog-related phrases mixed into the story, but there are plenty of dogs as well. Pooch people will love the references, especially if you're overly fond of dachshunds.
Some of the scenarios seemed a bit over-the-top and I grew impatient, so I started to skim toward the end. I really liked the couple, so I was eager for them to iron out their differences before they were convinced of their forever love. There were some scenes that seemed to stretch beyond what was necessary and I was ready for a conclusion. It didn't deter my reading as much as it sped it up.
Author Casey Griffin debuts an entertaining series with MUST LOVE WIENERS. Watch for book two of the RESCUE DOG ROMANCE series, BEAUTY AND THE WIENER in winter 2017. Get your silly on and enjoy a doggone-crazy, happy-ever-after with pooches and people who work hard for their well-deserved yap of joy.
Review by Dorine, courtesy of  The Zest Quest. Digital ARC provided by the publisher through NetGalley for an honest review.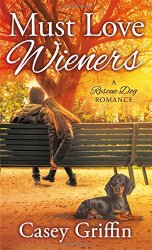 Must Love Wieners by Casey Griffin
Series: A Rescue Dog Romance (Book 1)
Category: Contemporary Romantic Comedy
Publisher: St. Martin's Paperbacks (August 2, 2016)
Rated 3.5 out of 5
Next in the series: Beauty and the Wiener by Casey Griffin.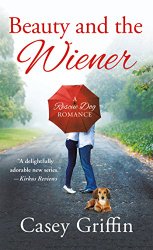 Print this Post