Summer Farm Share Week 18 – Brassica oleracea
Summer Farm Share Week 18 is bountiful with the blues of Brassica oleracea, the species for cabbage, broccoli, kale, kohlrabi and cauliflower. It's funny how some  weeks just stand out in color and you can tell they're similar even if you don't know why. I happen to be very partial to blue-green plants, including herbs such as sage, lavender and rosemary. All three are rampant in my garden, not only to eat, but for their beauty as a backdrop for other colors. This week's farm share bounty includes orange, red and yellow as highlights against that blue-green backdrop. It's not vibrant but a pastel like hue of a watercolor painting. I love photographing the shares as much as eating them!
Week 16 of our small summer farm share included (featured photo at the top of this post is a full Vegetarian share)…
Cauliflower – 1 head
Apple Cider – 1/2 gallon – I think dad drinks this faster than any of us.
Spaghetti Squash – 1 large
Kohlrabi – 1
Kale – 1 bunch
Sweet Peppers – 3
Sweet Potatoes – 4 lbs
Stanley plums – 2 lbs
Broccoli – 2
Cabbage – 1 small
Leeks – 1 – this went to my parents since we were keeping the cabbage.
Heirloom Tomatoes – 3
My half of our small Vegetarian summer farm share (above photo) and how we used it.
Cauliflower – 1/2 head – this easily goes into a steam or into the freezer. Love cauliflower. Mom's half is in the freezer so she has something easy.
Apple Cider – 1/4 gallon – I think this is still in the fridge waiting on us. We're just not fast cider drinkers.
Spaghetti Squash – 1 large – sitting on the counter waiting for a roasting day. We got this one. Will probably share with parents when cooked.
Kale – 1/2 bunch – this will be blanched and put in the freezer for soup. Mom's half is already in the freezer because I did it.
Sweet Peppers – 1 – into the freezer.
Sweet Potatoes – 2 lbs – baking these in the microwave. So good with a little butter, cinnamon and brown sugar on top.
Stanley plums – 1 lbs – we forgot about these in the fridge.
Broccoli – 1 – in a steam and into the freezer. Mom's is already in the freezer by my hands.
Cabbage – 1 small – hanging out in the fridge for slow cooker day with smoked Amish ham, potatoes, carrots and celery.
Heirloom Tomatoes – 2 – these burst open on my counter before we had a chance to eat them.
RESULTS (week of September 26, 2016)…

I ended up with broccoli instead of the carrots this week, which made me happy. I love both but I was really in the mood for some broccoli. These bunches were gorgeous. I also got the cutest little cabbage, unexpectedly. This is the size that's perfect for two people. I can barely fit those huge cabbages we get into my refrigerator. They pose a problem if I don't have time to get them into the freezer right away. I'm very excited about this little cabbage. I have plans for it to go into the slow cooker with some ham, potatoes and carrots. Such an easy and delicious meal.
This week was a bust in the cooking arena. We had several illnesses in our family to contend with so my time was spent in the car, or at a hospital, or cooking for someone else. I was supposed to be roasting tomatoes and putting more veggies in the freezer this week. Instead, I worked the farm share two days and unexpected things took over the rest of my free time. I don't regret any of it.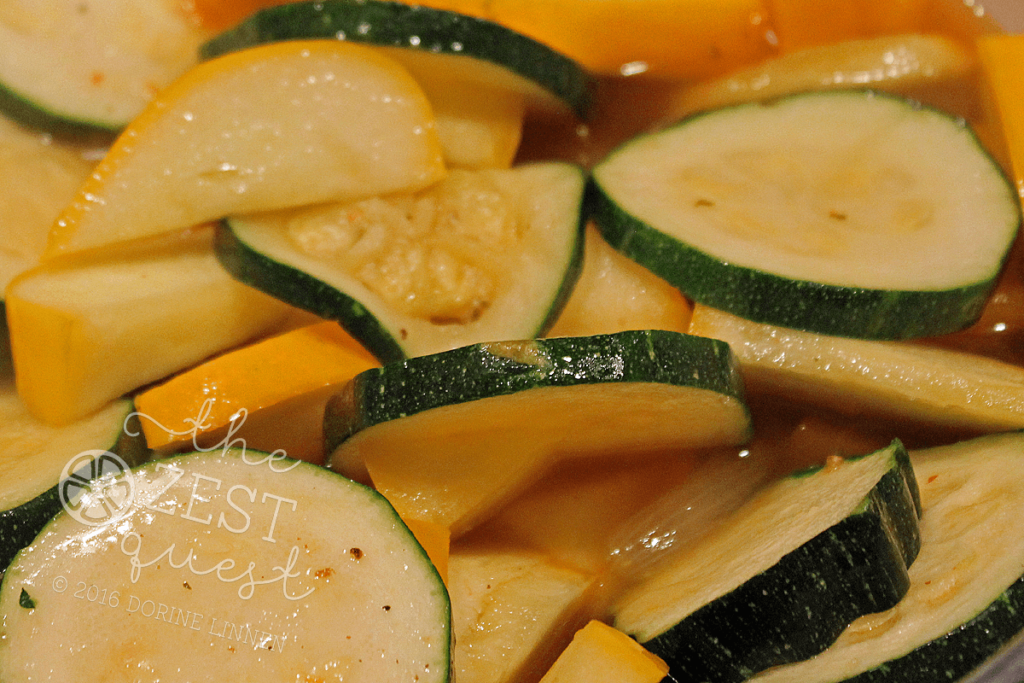 One of the dishes I made to share was zucchini and the patty pan squash that also used up onions and peppers. Those are easily steamed in a pan together in some veggie broth, seasoned with salt and pepper. We ate those with a sweet potato and some salmon.
Not pictured is the beef pot roast I made with the last of our frozen roasted tomatoes from last year. Those roasted tomatoes make beef taste even better every time. I added carrots, potatoes, celery and onions piled high.
Four of us ate well for several days on those two dishes. So even though I didn't cook a lot, we ate well.
I'm sure there will be losses as the veggies don't always wait for when you have time. I accept those losses.  Yes, I could have stretched beyond my limit and made it work, but to what end? We have a farm share because I love doing it. I also don't expect it to be a perfect scenario every week. Do I get disappointed in myself? Of course, I do. But if you're perfect, life is boring and without direction. At least I know how I can improve. If I can keep my critical self from beating up on my zestful self too much. HA
One thing I have learned is that trying to roast San Marzano Roma tomatoes with October produce isn't the same as roasting September's produce. They're not as ripe, nor do they react to the same storage techniques used in their height of production. I tried several methods of storage unsuccessfully this month and the loss was greater than I expected. Had I been home with a fresh mind, I would have realized my failure a lot sooner. We're also dealing with less refrigerator space this year. In most months, that's not an issue, but more refrigeration at the height of the harvest season would really help. I just might have to invest in another small refrigerator next year for August through October harvest.
What food lessons did you learn this year?

Print this Post