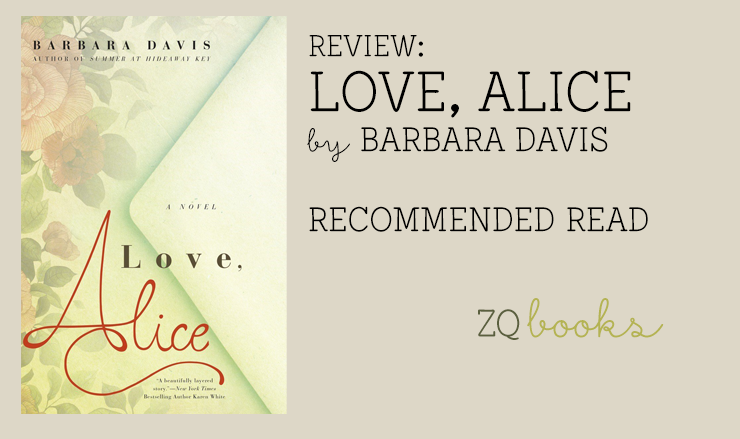 REVIEW: Love, Alice by Barbara Davis
LOVE, ALICE by Barbara Davis is an amazing and heart wrenching story of past and present that brought part of my own family's Cornish history to light. I've heard them called workhouses in the murmurs of what happened to my ancestor in the late 1800s during her pregnancy. In this story, we learn the fate of unmarried pregnant women who were sent to do penance until their baby is born during the 1960s. Women work in the "laundries" where they are housed until forced to give up their child for adoption.
The novel begins with a prologue in Cornwall in 1962, describing Alice Tandy's first impressions of Scared Heart, a convent for pregnant unmarried women governed by nuns. Alice's mother Dora feels it's the best place for her daughter, whose boyfriend has recently died. Dora was the unwed mother of Alice and doesn't want her daughter to face the same hard life.
I love a story told through letters and this one is especially haunting. In the first chapter, we're introduced to Dovie Larkin who grieves her fiancé at his gravesite in Charleston, South Carolina, in 2005. She befriended the cemetery caretaker and eats lunch with him on a bench overlooking her fiancé's burial spot, trying to fathom why he committed suicide mere weeks before their wedding. It's there that she finds a letter for Alice Tandy, written by her mother Dora who visits her deceased daughter's resting place. The caretaker admits that there have been more letters and finds them in storage for Dovie to read. Dovie can't allow a mother to grieve her daughter without some answers since she came all the way from Cornwall to find them. What happens to both women is astounding, heartbreaking and beautifully enriching.
I sobbed near the end. The emotion is overwhelming for the entire cast of characters. And yet, there is a semblance of peace and happiness.
In some ways, it's hard to love Alice. Granted, her life was hard because of the choice made by her mother, but Alice held her hatred too close and for too long.
Dovie is a very sad character struggling to find answers for her boyfriend's choices. Should she have suspected his inner turmoil? Maybe she did and now she has to live with the consequences? It's obvious from the beginning that even though Dovie is grieving, she cares for others very deeply. That need to fix what's broke keeps her curious enough to find answers and help others within the process. These characters heal each other in various ways and in the end, it's easy to care for them all, even those who can't forgive themselves.
Although I guessed some of what Dovie eventually discovers, it didn't make it any less emotional. Prejudice in its many forms lurks in the background, forcing people to act out in ways better left in the past. There are some good lessons about love in this novel.
This story is especially poignant for me because I've always wondered how my great-great-grandmother coped with a lifelong separation from her daughter and son. My great-grandmother and her brother didn't know they left their mother in Cornwall when they were children. Born in a workhouse, they weren't adopted by strangers because they came to America with their grandmother, the woman they thought was their mother. My great-grandmother didn't know the truth until she was in her 30s, which devastated her. Shame is the culprit of too many atrocities of the heart.
Barbara Davis is a gifted storyteller. Her pacing is exquisite. I wanted to race ahead to find out what happens but I was so enraptured with the story that I didn't dare skip ahead in case I'd miss something. For those of you who love a happy-ever-after, this book has one but the journey there is not always so joyful. These characters earn their happiness in every sense of the word.
LOVE, ALICE by Barbara Davis has everything I love in a novel. It tells a story of the past that affects the future. Letters are wisely incorporated to tell that story. Deep-seated emotion tugs at your heartstrings as well as incites your anger. Highly recommended to those who love women's contemporary fiction with a mystery that reflects the results of history.
Review by Dorine, courtesy of The Zest Quest. Digital advanced reader copy provided by the publisher through NetGalley for an honest review.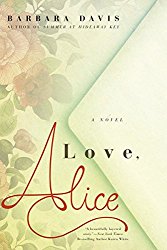 Love, Alice by Barbara Davis
Category: Women's Fiction: Contemporary/Historical
Publisher: Berkley (December 6, 2016)
Rated 5 out of 5 – Recommended Read
Do you enjoy books with a dual timeline?


Print this Post