REVIEW: The Dry by Jane Harper
THE DRY by Jane Harper is a superb debut full of interesting characters in a small town in Australia, caught up in a mass murder while more than one mystery unravels.
Federal Agent Aaron Falk receives a mysterious note from someone in his hometown about lies and his best friend's funeral. He returns to his hometown for the first time in years on the day of Luke's funeral. Falk and his father had run away years ago from the town that accused him of murder. Luke had been his alibi. Someone knows more than they thought back then, and Falk must investigate if it has anything to do with Luke's family's murder.
This was one of the first audio books I've listened to in years and I was spellbound. I'm sure a big reason for that is due to the talented narrator, Stephen Shanahan. I love his voice and the way he portrays all the characters. Many times, audio narrators irritate me when they change their voice to match the various characters. Stephen Shanahan's talent made this book come alive in a way that mesmerized. I couldn't stop listening and could easily visualize the scenes as they happened. Stephen Shanahan's acting ability is exquisite.
All it took was two minutes listening to the narrator in a sample and I knew THE DRY was exactly what I had been craving. I love the old-fashioned style of a detective novel and this had that kind of feel with a modern edge. I had also received FORCE OF NATURE for review, so I wanted to read this one beforehand. Audio was the quickest way to do that.
Because Falk ran away from rumors years prior, he's not exactly welcome on his return. People still wonder about him. But Luke's parents trust him and request his help unofficially regarding the reason behind their son's death. Considered a murder suicide, the parents can't believe it's true. There had to be some other reason behind this horrible event. If for nothing else, they hoped Falk would help so that Luke's youngest daughter wouldn't have that hanging over her as she grew up. Falk felt he owed them that much, so he joined the local authority in his investigation.
This isn't an easy book to listen to as it's realistic in ways that are jarring. But it's that unnerving characteristic that makes this audiobook so engrossing. Filled with horrific details of more than one violent event, it's not a book I recommend that you read or listen to before falling asleep. I'm not so sure your dreams will be welcoming.
The only part of this book that left me wanting more was the end. I felt like a few pages were missing as it ended too abruptly. Not really a cliff hanger, but it left me feeling like there should have been more. Even with that one criticism, I highly recommend this book to those who love a good detective story.
THE DRY is edgy, making the reader both afraid and anxious for what's next. Amazing as a debut book – I cannot wait to see what Jane Harper creates next. Highly recommend this audiobook for both the author's and the narrator's skill.
Review by Dorine, courtesy of The Zest Quest. Audible copy purchased.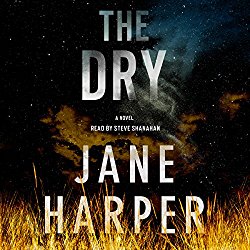 The Dry by Jane Harper, narrated by Stephen Shanahan‎
Category: Small Town Thriller
Publisher: Macmillan Audio (January 10, 2017)
ISBN: B01N2VR80H
Rated 4.5 out of 5

Print this Post