REVIEW: Wish Me Home – #TBR Challenge 2019
WISH ME HOME by Kay Bratt took me on an emotional journey, filled with interesting people, and a dog who melted my heart. "The One" appears, but this is mostly about running away and finding your bliss.
I love Kay Bratt's style. She pulls me in right away with her engaging characters who keep their stories secretive. Little by little, the character interacts with others and I get a peek at who they are, always curious for more. Favorite themes of living on the road, walking, cycling, camping. Destination: Hemingway's house and Key West.
Why was this book in Dorine's TBR? I went through my print TBR and didn't find any intriguing contemporaries that were less than 300 pages. I needed something quick. WISH ME HOME popped up on my Kindle library with a cute dog on the cover. I have no idea if I downloaded it, or if Amazon Prime put it there, but it howled at me and I had to read it.
My review…
There were so many of my favorite themes in this book that if it wasn't in my TBR, it would be soon. I love, love, love travel stories, especially those "run away from home" type stories where the main character is roughing it in some way. I say I'm running away from home every time I go camping. It's my form of escapism – well, not REAL camping without conveniences. I Glamp Tiny in a 16-foot, 3-person camper, complete with indoor plumbing, microwave, refrigerator, air conditioning, etc. I do like deep woods and privacy, but some humans close by to hear me scream if a bear attacks is helpful. LOL
So, Cara's initial situation of walking with a backpack along a highway appealed to me. I wasn't sure if she was homeless, running away, or simply trying to find a gas station to get help for her broken down car. It was a lovely surprise that she was running – from something or someone. I couldn't wait to discover her secrets.
When Cara meets a dog in need as much as she is, my heart melted. The sad little pup seemed to think that Cara was his person. Cara tried to ignore the dog, but when a canine decides you're their person, it's hard to walk away. When Cara realizes he is hurt, she has to help him. And then feed him. And name him Hemi after her favorite author, Hemingway. Well, you know what happens next, right? He's not going to leave a good thing!
I was a hot mess reading about that dog. Oh my gosh, Kay Bratt can pull on the heartstrings. I cried like a baby at one part, and I was so glad she let me have my Happy for Hemi.
When Cara gets a tent and starts to stay in campsites toward the Keys, I was excited. I once tent camped down the coast by island-hopping as much as I could. I've been to the Keys several times, and it's one of my favorite places. I can't wait to get back there in the Glamper Tiny, so reading about this location made my week.
But Cara isn't doing this for fun – she's running from something, and the reader doesn't find out "what" until almost the last quarter of the book. That's okay with me because I found her journey fascinating. And her confession even more exciting!
There was also suspense dealing with depression, which I found absorbing. I love books that delve into some sort of chronic illness or disability. I love the characters' methods of survival as a catalyst in the plot. This one was very realistic and interesting.
My thoughts and quibbles…
There wasn't as much romance development as I prefer, but I can understand why. Although this story is mostly about Cara and her HEA (happy ever after), it's also about her twin sister. Their connection as twins was life altering, and one couldn't move on without the other.
All the characters are essential in this book. They each serve a purpose propelling Cara toward her HEA. The majority of the book is about Cara's struggle during her journey and her past. There is a good romance, but for those of you who enjoy that subgenre of fiction, it may not be as deeply developed as you prefer. Don't let that stop you from trying this beautiful book.
I love novels about runaways. Even though Cara's journey resembles a teen's story, she is an adult. She felt much younger to me in the beginning. Her traumatic childhood dominates her memories and thought process, so you're living through her journey as she soothes her child and adult selves. It's very moving and I loved her story.
Her dog Hemi is such a good character. I loved his part in Cara's journey. Everyone needs a support system – Hemi and Cara found each other at the right time.
What wasn't perfect for me? There were some timeline jumps that I felt were abrupt. Cara's connection with Luke's daughter Ava seems to skip some development, so I actually thought I had skipped a couple chapters. I didn't recognize another animal mentioned when Cara and her sister are together. It bumped me out of the story, wondering what I missed. Luke and Cara's romance moved faster than the reader gets to experience. Again, I think that works for this story. It just may be less than you expect if you're primarily a Romance reader.
Even with those few bumps in my reading experience, I still really enjoyed this book. For those who suffer with depression, or know someone who does, this book is a great healing journey example.
In the end, my favorite parts of the book were centered on Cara and Hemi. I'm a huge animal lover and advocate for rescue and adoption. I've lived through separation from a pet at a young age that is a vivid memory. Many of my pets have been lost souls who found their way to my door. Hemi and Cara's relationship is very emotional and loving. It spoke to me and tied me to this book until I could rush to the end for their conclusion within 24 hours. Animal lovers will gobble this up because of their relationship.
I found Kay Bratt when I requested DANCING WITH THE SUN for review. Since I read all types of fiction, I'm never sure if a book I've chosen will meet romance readers' preferences. I'm a bit more flexible, since I enjoy women's fiction and young or new adult books. This one held me captivated, even though Cara doesn't meet Luke until halfway through the book. I can't put this book into any specific category – it has nuances of all I've mentioned, including some suspense, so I think it will appeal to a wide variety of readers.
WISH ME HOME is a Prime Freebie, so grab it and see if you agree with me about Kay Bratt's talent. I know I'll check out her backlist and am looking forward to what's next. Loved my TBR Challenge choice this month- first book I've read in 24 hours in a long time!
Review by Dorine, courtesy of TheZestQuest.com. Digital copy received for free from Amazon Prime. Thanks in advance for following links and sharing this review on social media.
Don't miss my review of Dancing with the Sun by Kay Bratt, a recommended read.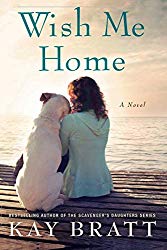 Wish Me Home by Kay Bratt
Category: Contemporary fiction with romance and suspense elements
Publisher: Lake Union Publishing (March 21, 2017)
ISBN: 9781477819944
Rated 4 out of 5

Print this Post