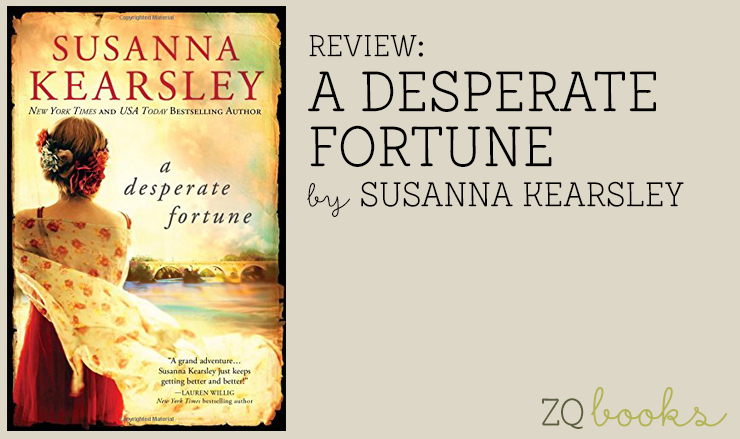 REVIEW: A Desperate Fortune by Susanna Kearsley
This novel is like an archaeological dig of words, with the main character in this century unraveling the clues about the main character in the past. Exciting and intriguing, A DESPERATE FORTUNE surprises with unexpected emotion.
A great mixture of a modern day story following a mystery as it unfolds in history, A DESPERATE FORTUNE combines two time periods in a fictional tale that's exciting as well as emotional. I was drawn to this novel, not just for the historical aspects but also because the modern-day heroine's Asperger's diagnosis made me very curious about her coping mechanisms.
Sara Thomas depends on her cousin Jacqui to calm her sometimes nonsensical Asperger's world. Sara knows she's different but Jacqui does her best to help Sara blend into society, even if Sara pretends to be what she's not in order to get through the more difficult moments. Jacqui teaches Sara to mimic normal so even those closest to her sometimes forget that she isn't just like them.
When Jacqui presents Sara with a cipher to unscramble as a means to test her for a job with a client of hers, it challenges Sara. In the process, this cipher job resolves many of Sara's lifelong doubts about her ability to have a normal life, including meeting a man who accepts her uniqueness. The cipher leads Sara to France to decode a diary written by a woman in the 1700s. A DESPERATE FORTUNE is a historical adventure that unravels as a modern day mystery, enhanced by two love stories, one in present day and another in 1732.
I'm fond of journals and diaries, especially historical ones. I've had this particular book on my wish list for some time and to my surprise the publisher granted my wish by offering it to me for review. I was in a reading funk at the time it was offered and since I was in desperate need of a good historical, I accepted. It was exactly what I had been seeking and in some ways beyond what I had imagined. I love it when I'm surprised by a book.
Mary Dundas had been left with relatives to raise her when her mother died and her father followed his political aspirations. She felt abandoned, so when her brother comes for her in 1732, something she had always dreamed about, Mary is too excited to ask very many questions. Eventually she realizes that she is the perfect solution to a Jacobite's need for discretion. Mary Dundas finds herself on a dangerous mission for a cause she has never supported until now, and falling for a man who is the most dangerous of them all. Will she live through the risky role she must play to find her happy-ever-after?
I thoroughly enjoyed this novel. Lately I've been avoiding books with this many pages because it takes me too long to finish the book, but I sped through this one. There were a few times when the extra-long sentences made me wonder when to breathe as I was reading, but I got used to them. There was also a section about halfway through the book where the character Mary was hashing out her situation within her mind and it seemed to go on a bit too long for me. But when you consider that this is an over 500 page novel and those are the only quibbles I had, which didn't stop me from reading further, then I'd say this novel was near perfection.
This book pulled me out of my reading funk because I couldn't put it down and when I did, I couldn't stop thinking about it. Any author who encourages my anticipation of the next page is bound to go on my favorites list.
I especially enjoyed Sara's part in the story because she made Mary's story come alive. Sara's struggle with Asperger's was realistic and heartwarming. Mary is an innocent caught up in a time when her family is torn apart by their political beliefs and she is left to figure out where she fits in their lives. When Mary is given hope, she instantly gravitates toward it because it's all she has wished for and that makes her story all the more heartrending. I was emotionally captivated until the end and pleased with how both heroines' lives turned out, even though this book make me cry.
I especially enjoyed Mary's ability to spin a tale to entertain. Her fairy tales were a nice touch to her character, adding an element I had never considered, keeping me further intrigued. I think that's what made this book so stimulating. The two time periods combine over time as the diary is decoded, but there is also the lightness of the fairy tales Mary makes up amidst the danger. It's the combination of several riveting elements for both characters that kept me captivated.
I also think that historical lovers will enjoy the author's note at the end explaining how she created this book and how it relates to others she has written. I love knowing how much of historical fiction is true and where the author veered off with her imagination. The historical research is fascinating and how it all weaves into the story makes the book even more enjoyable. Susanna Kearsley's obvious talent has me anticipating more of her books.
A DESPERATE FORTUNE is the type of fiction I like to read, with a little modern and a little history, traveling back and forth between the two time periods as the mystery resolves. It's like an archaeological dig of words, with the main character in this century unraveling the clues about the main character in the past. Neither character has accomplished anything of rare importance yet in their lifetime, but together they'll reveal their special qualities as the story unfolds. Exciting and intriguing, A DESPERATE FORTUNE surprises with unexpected emotion.
Review by Dorine, courtesy of Romance Junkies and The Zest Quest. Digital ARC provided by publisher through Netgalley.
A Desperate Fortune by Susanna Kearsley
Category: Historical Contemporary Suspense
Publisher: Sourcebooks Landmark (April 7, 2015)
Rated 4.5 out of 5
Do you enjoy books that tell a story from two different time periods?

Print this Post