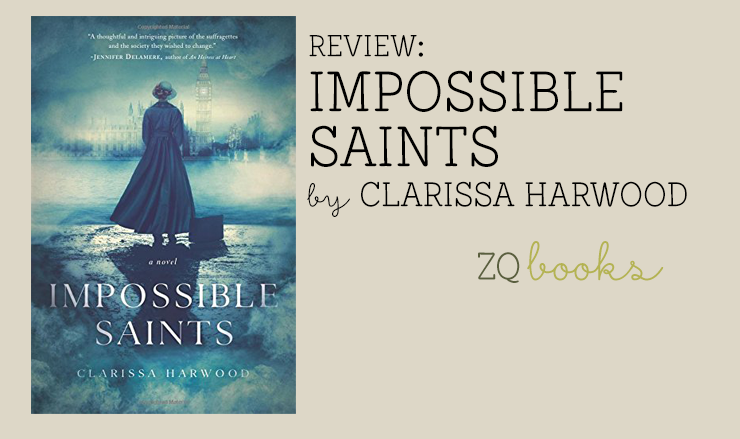 REVIEW: Impossible Saints by Clarissa Harwood
IMPOSSIBLE SAINTS by Clarissa Harwood fascinated me with its unusual subject matter for a historical romance. It's uncharacteristic, as well as depicts strong women who fought for their rights in the early 1900s. This "new" woman was sexually aware, smoked, and went to jail for what she believed in. These were the women who fought for our equality in a time when no one believed they could win. But they did.
Lilia Brooke taught at her father's school until her attitude unbecoming to a village teacher forced her to move to London to teach at her friend's girls' school. She reconnects with her childhood friend and intellectual peer, Paul Harris, a clergyman at St. John's Cathedral. Their on-again, off-again friendship is exasperating for both. Lilia isn't religious and has no patience for the rules of the church, whereas Paul is a canon and striving to become dean. His faith is everything to him.
Lilia and Paul are interesting characters. Lilia's involvement with the women's suffrage movement fascinates Paul who is tied to his church. They rarely see eye-to-eye, but that's what makes their relationship interesting. I couldn't help but wonder if they'd become romantically involved, then I'd have my doubts, then I'd wonder again. Will their convictions suffer for it? Paul eventually realizes he has deeper feelings than he imagined for Lilia. She shuts him out after a tragedy. Will they ever come to terms with their feelings?
I didn't like Lilia at first. She is so committed to her cause that she comes off as lacking emotion. But Lilia's empathy grows as the story progresses. She becomes less militant and more understanding. Lilia is selfish, and her redemption follows tragedy. Paul was broken and confused. He floundered, and I wondered how he'd pull it together. Then we're introduced to Will, who is quite a character. I couldn't stop picturing Will as Johnny Depp when he played Sam in Benny and Joon. He's eccentric and adds a thorn in Paul's side while confusing Lilia.
Quite an adventure, IMPOSSIBLE SAINTS can be graphic. The forced feedings in jail were horrifying, but it was necessary to show how committed these women were to their cause. And what horrific things men did to hold them back during the British suffrage movement. I was surprised at how violent the women got to draw attention, but it worked.
The author's note at the end explains how she addressed the timeline to suit the story. I was super curious about the Church of England and Paul's role in it, but my questions weren't answered. Some things are assumed, so if you're not familiar with religion during this historical time, you'll be like me and off on a research tangent. It's hard to believe that the privilege earned was women's right to vote, and it wasn't that long ago. Women's suffrage says it all.
Thought provoking and deeply moving, IMPOSSIBLE SAINTS is an exquisite addition to the historical romance genre. I loved the setting, the suspense, and the satisfying ending. And that cover! It's what drew me to this new-to-me author in the first place. Great debut!
Review by Dorine, courtesy of The Zest Quest. Advanced digital copy provided by the publisher for an honest review.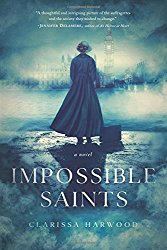 Impossible Saints by Clarissa Harwood
Category: Historical
Publisher: Pegasus Books (January 2, 2018)
ISBN: 978-1681776248
Rated 4.5 out of 5

Print this Post