Review: Blue Hollow Falls by Donna Kauffman
Blue Hollow Falls by Donna Kauffman is the perfect book for a lazy couple of days because you won't want to stop reading. It has all the themes I love: gardening, mismatched family, mountains, flower-child lore, artisans, and smack-talking men and women.
The greenhouse on the cover is what drew me to this book for some time before it landed on my TBR as a publisher promoted kindle freebie. New-to-me author Donna Kauffman took me by complete surprise and has become a seek-all-that-she-has-written favorite overnight.
First, Sunny's full name, Sunshine Meadow Aquarius Morrison Goodwin, easily describes her flower-child mother, Daisy, aka Daisy Rose Rainbow Love Garcia Goodwin. Now deceased, a lifetime of Daisy's influence has made Sunny who she is today. When the flower-child upbringing combines with her horticulture career and she lands in the Virginia Blue Ridge Mountains, I was cozy and ready for her story.
Next, mountain man Sawyer Hartwell and his best friend and army buddy Seth Brogan made an immediate impression as well. Not to mention the eccentric stepmom and half-sister Sunny has just met. The beginning chapters made me smile and want to settle in for two days of non-stop reading.
Stepmom Addison Pearl Whitaker is a hoot from the start, which made the beginning of this novel intriguing and funny at the same time. That ornery lady was up to something, and from Sawyer's point of view, it wasn't anything good. That she brought a foster child who was supposedly related to them up the mountain to hear the reading of the will was just like the woman. She also held her own when Sawyer made sure to tell her so. Threatened him with her cane and he wasn't surprised.
What really drew me in was the idea of forming an artists' community with the inherited property. Always captivated by artists, I've always thought the idea of a community where artistic people could sell their creations was a great idea. Having participated in a couple of those concepts in my own community years ago, I always dream of doing it again.
I loved everything about this book and ordered the rest of the series, as well as requested the highly anticipated Lavender Blue for review – it releases January 29, 2019. It's rare to find a new-to-me author this gifted. I'm thrilled that she has a huge back-list for me to glom.
I laughed, I cried – all while trying not to skip pages so I could find out what happens next. The description put me right there in those mountains as I enjoyed my own wooded piece of heaven on vacation. I couldn't be happier.
If you enjoy lovable characters with quick wit in a cozy, down-home setting, then download Blue Hollow Falls or grab a print copy right away. I'm sure you'll order the rest of them lickety-split just like I did.
Series order: Blue Hollow Falls, The Inn at Blue Hollow Falls, Bluestone and Vine (Seth's story), and A Season to Celebrate, an anthology that contains book 2.5, Christmas at Blue Hollow Falls. Lavender Blue coming soon.
Review by Dorine, courtesy of TheZestQuest.com. Digital copy obtained for free through the publisher's promotion at Amazon.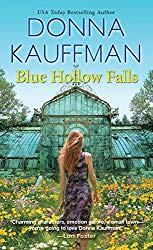 Blue Hollow Falls by Donna Kauffman
Category: Contemporary Women's Fiction
Series: Blue Hollow Falls, Book 1
Print Length: 368 pages
Publisher: Zebra (June 27, 2017)
ISBN-13: 978-1420142549
Rated 5 out of 5, Recommended Read
---
Do you gravitate toward specific types of books based on your own hobbies?

Print this Post