Review: Detecting Danger – TBR Challenge
DETECTING DANGER by Valerie Hansen is one of the Love Inspired Suspense books I acquired in my reader service subscription in 2015. Unfortunately, it didn't meet my overall expectations, but I'm glad I read it to better understand continuity series.
Why was this book in Dorine's TBR? I was once told to read what you want to write, so the Love Inspired line was a reading experiment. My own storytelling seems to lean in an inspirational direction. Not necessarily Christian, but uplifting with a positive message. I had always felt like Harlequin would be my eventual home as a writer, so I studied several lines. Along the way, I realized I enjoy reading and reviewing more than writing novels, so here I am with a pile of books, wondering if they suit me as a reader, or not.
Even though I love thrillers, I've always had a love/hate relationship with Romantic Suspense. I just can't wrap my head around how some of the heroines go against what their man advises, AND what seems sensible, just to get themselves into stupid trouble.
I want to love Romantic Suspense. It seems like it would combine edgy with romance, but I struggle finding any that are believable. With a stack of them in my TBR to prove it, I keep trying. I'm about ready to pack them up and give them away to a reader who will appreciate them, as I don't think I'm that person. If I could just put away my skeptic brain cells, but they come out all cranky every time.
I like the concept of Inspirational Romantic Suspense, but something about them doesn't feel real. I'm all for fantasy in my reading, if it makes logistical sense to my brain, but I don't get these at all. Maybe they're too short to accomplish complicated plots. Maybe they're trying to be something more than they need to be? I'm not sure. But I have a stack of them, so I haven't given up completely, yet.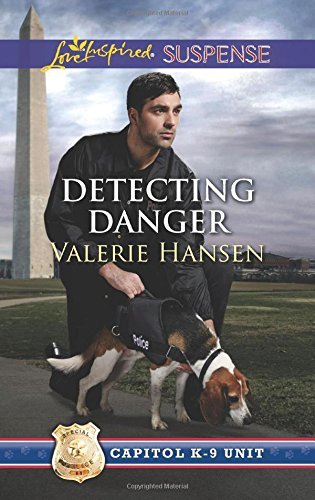 DETECTING DANGER is part of the Capitol K-9 Unit continuity series written by several authors. Unfortunately, I didn't realize this when I chose it for our TBR Challenge theme of Friends for February. It suits the friends TBR theme as this couple grew to like each other over time, and then fall in love. The last few chapters seemed to wrap up some continuing suspense from previous books that I didn't read, so I had to resist the urge to skip it as it felt like filler to me.
Isaac Black and his canine partner Abby find a bomb just before it explodes. Isaac is injured enough to go to the ER for treatment, where he's treated by Daniella Dunne, a very nervous nurse in the witness protection program. He can't shake his need to protect Daniella from whatever scares her enough to run. Will she trust Isaac enough to tell him the truth?
Daniella has every right to fear because her father who killed her mother with a bomb is now out of jail. The recent bombing puts Daniella in the media spotlight and has ruined her cover. Can Isaac Black and his siblings protect her, or will she need to run?
To me, this sounded right up my alley. I have an interest in K-9 due to my husband's background, and I love a good suspenseful story. I'm not really fond of politics, especially at the moment, so I was hopeful that part of the story would be low key. For the most part, politics weren't the full focus of the story, even though they were key in solving some of the what I suspect was part of the continuity series suspense.
This book had a lot going for it, but unfortunately the believability factor was constantly nagging at me. I enjoyed the underlying faith message in the beginning, but even that contradicted itself in the middle of the book. Daniella and Isaac's characterization both seemed off. They would say one thing, then in the next few pages go against what they had claimed on a prior page. It wasn't like they had time to think about it and change their mind, they just flip-flopped without reasoning.
The cop was too good, without the edge needed to do his job well. He kept making rookie mistakes. To catch a criminal, you need to think like one, and this guy was too nice and naïve to get there. Yes, he was smitten by Daniella, but I'm not sure why. His infatuation seemed to mess with his cop instincts, or he was too green to have acquired them. The good thing is, he knew she was affecting his performance and admitted it.
This story had a lot of potential. I really liked the idea of three siblings living together on an inherited farm, each with their own expertise. I would have enjoyed more interaction with all of them together. The author obviously has talent. Her writing is strong and the dialogue is good. It just seems like she was hemmed in by all these actions that had to happen in a very few pages to continue the series. That didn't leave enough room for believable characterization.
I see a lot of positive reviews for this Capitol K-9 Unit continuity series, so my suggestion is to start at the beginning to see if this works for you. My wish is that the reader service wouldn't send books late in a series like this to a member who hasn't acquired the first ones. It's one of the reasons I canceled my subscription. I would have much preferred that they stick to single titles, or the first book in a series, to give the reader a chance to decide if they want to buy more.
I hate giving a book a negative review because I know there are many people who worked hard on it to get it to publication. It's evident that this is the case with this book. So, with that in mind, I really tried to think about why it didn't work for me. The bottom line – there were too many plot conveniences. I can handle one or two and just give the book an eye-roll and be done with it. But, the inconsistencies in this one kept me from enjoying the story.
Let's not forget that I'm a tough sell when it comes to Romantic Suspense. Another reader will more than likely love this book because it's their jam. I can't change my reader instincts and what makes me pause – I just really enjoy evaluating why certain books do or do not work for me. That means this one gave me plenty to think about.
My TBR is filled with more Love Inspired Suspense to try, but my biggest pile is Love Inspired Historicals. I'll dive into those next to see if they're going to work for my preferences. Wish me luck!
Review by Dorine, courtesy of TheZestQuest.com. A print copy was purchased. Thanks in advance for following links and sharing this review on social media. #TBRChallenge #RomBkBlog
Detecting Danger by Valerie Hansen
Series: Capitol K-9 Unit
Category: Christian Romantic Suspense
Publisher: Love Inspired Suspense; Original edition (July 1, 2015)
ASIN: B00SFQTOSA
Rated 3 out of 5

Print this Post