Review: The Sun Down Motel needs a warning label!
THE SUN DOWN MOTEL by Simone St. James is so creepy it needs a warning label! Early on, I decided to read this one only during the day. It wasn't until almost the end that I deemed it safe enough to read at night without succumbing to nightmares.
The book begins in November 1982 when twenty-year-old Vivian Delaney, who works the night shift at the Sun Down Motel in Fell, New York, disappears. Then, we switch to November of 2017 with twenty-year-old Carly Kirk, Vivian's niece, who has always wondered what happened to her aunt. After her mother passes from cancer, Carly can't sway her curiosity any longer. Only intending to stay a few days, Carly finds a trail that she can't stop following. Will she become another missing link to evil?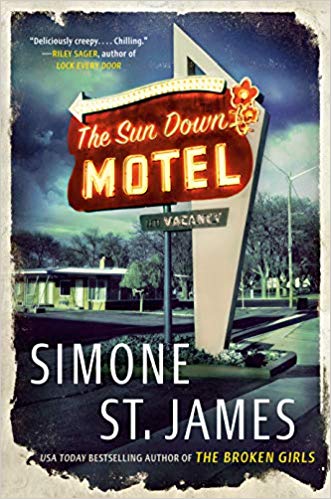 It took me a bit to figure out why this book creeped me out so much. It's a good suspense, filled with something evil, plus ghostly beings adding to the mix. It's not really that scary, but the motel is very creepy. Maybe because I remember the 80s so well, and this motel reminds of places I knew from my travels. It reminds me of an old Alfred Hitchcock movie and I saw the book roll out in my head in black and white. In the end, I realized it was the atmospheric aura of the writing that gave me a sense of dread.
I wasn't more than a chapter or two in and I was having nightmares. That's when I stuck to reading only during the day until the very end of the book. By that time, I was really into the characters, even the ghosts, and I wasn't afraid. As the characters got braver, I did too. To the point that I read almost all night to finish. Going without sleep was worth reading the end of this book in one sitting.
At first, the style of this novel didn't pull me in completely like the author's previous books. Whether it was the timeline switches, or the more modern story – this book just felt different. It was a slow build for me, but oh so good once the characters nabbed my attention.
Author Simone St. James is excellent at characterization and it's my favorite part of this novel. Oh yes, she's excellent at a gothic setting as well, but that's like a backdrop to the way she dives into her characters' psyche. I was so intrigued by all the characters, alive and dead. They really made the book for me. Their stories came alive bit-by-bit through the dual timelines back and forth. It's that inching forward with tidbits that hint at what's to come that makes this book so fun to read.
Completely satisfied by the conclusion, I could have read more about the main characters. They entertained me, and I would have gone on for a few more frightful episodes, or loved a peek into their future. But that doesn't affect my opinion of the novel – it was great just like it was.
Simone St. James has earned her spot on my keeper shelves over and over. Her style has changed since my favorite, THE HAUNTING OF MADDY CLARE, but she's so consistently entertaining that I can't imagine not reading every book she writes. If you love a gothic spooktacular, a few shivers and screams, bumps in the night, and characters you'll run with until the end, THE SUN DOWN MOTEL is waiting for you.
Review by Dorine, courtesy of TheZestQuest.com. A digital copy was provided by the publisher for an honest review. Thanks in advance for following links and sharing this review on social media.
The Sun Down Motel by Simone St. James
Category: Ghost Thriller
Publisher: Publisher: Berkley (February 18, 2020)
ISBN: 978-0440000174
Rated 4 out of 5

Print this Post