REVIEW: A Madness of Sunshine
A Madness of Sunshine by Nalini Singh is a great character-driven suspense in a small coastal town in New Zealand filled with likely suspects. It reminded me of mysteries I've enjoyed in rural UK, except this one is more nature focused. It has that same style, where the setting adds to the intrigue. The characters pulled me in with what they didn't say, spinning a mystery right from the beginning.
Will is a cop who angered his superiors and is sent to a remote town to bide his time. He's unrepentant for his misdeeds, which makes him even more likable as he's backing the innocent mistreated by evil.
Anahera has suffered her own mistreatment by more than one man, but it has only made her stronger. I liked her from the beginning. She's a no-nonsense heroine, not flighty or careless, but smart and leery as she should be.
The two become unlikely partners in a murder investigation – one a stranger to this town of secrets, while the other is a full-on participant in the secrets, even though she's sometimes unwilling.
I anticipated the conclusion throughout this story, but I was interested enough in the details to read every word and not skip ahead. Author Nalini Singh is a gifted writer, which is why I read every word. I'm super curious if this is a standalone title, or if there will be future endeavors following this cop's adventures.
The villain is beyond creepy, bound to string Will along in future investigations. There were some crime details left out, thankfully, but that makes me think the author is saving that for another story in the future. The villain was vague, and I'm sure he wants to share more.
This is the first book I've read by this author. I enjoyed her voice and pacing. There were a lot of characters and suspects, too many at times for me to keep track, so I did get confused on who was who. That's the only critique I have – the number of characters seemed to be directed at a possible series, and if not, then there were too many. Of course, my confusion may have been due to the hard-to-pronounce names for someone unfamiliar with this area.
That is a very small complaint, as I read this consistently over a couple days while on vacation. The novel made me edgy and affected my dreams, waking me up to read more.
A Madness of Sunshine will satisfy those who love police procedural detective novels in countries you'd love to visit. Its setting is like another character, adding to the beauty of the words and its wildness, ramping up the suspense.
I recommend A Madness of Sunshine to all who love a good murder mystery with a touch of romance. The mystery is the focus, but the couple involved in the center of it adds immensely to the overall entertainment.
Review by Dorine, courtesy of TheZestQuest.com. A digital advanced copy was provided by the publisher for an honest review. Thanks in advance for following links and sharing this review on social media.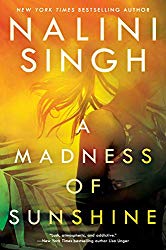 A Madness of Sunshine by Nalini Singh
Category: Romantic Suspense/Thriller
Publisher: Berkley (December 3, 2019)
ISBN: 978-0593099131
Rated 4.5 out of 5

Print this Post